InstaVoIP® 516-POE Intercom Module
A low-cost standalone VoIP hardware/software platform
Is a low-cost standalone hardware/software platform designed for extended temperature environments. InstaVoIP 516-POE is a VoIP SIP endpoint with full-duplex speaker phone capabilities that is designed and manufactured in the US. It supports Power over Ethernet (PoE) and can drive up to a 4 Ohm speaker. It also has an onboard driver for controlling door latches and other devices (supporting up to 12V/24V and 2A or a 5V Relay). InstaVoIP 516-POE Intercom Module has 4 Mbytes of flash and 16 Mbytes of SDRAM, providing plenty of room for application specific features. The hardware codec is capable of Stereo audio sampling rates up to 48kHz.
Example Applications include:
IP Speaker Phone
IP Intercom Systems
IP Ceiling Speaker
IP Elevator Communications/Music
IP Paging
IP Door Entry
IP Emergency Phones
IP Parking Garage Entry
IP Audio Streaming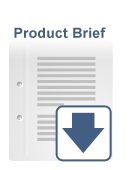 Hardware Features
Support for 12/24VDC Door Latches or 5V Relay
1 10/100 PoE 802.3af Ethernet Connection
300 MHz Processor speed (Optional 400 MHz)
4 Mbytes Flash, 16 Mbytes SDRAM
4 Ohm Speaker Driver, and 2 UARTs
2 channel Audio Codec with sampling rates up to 48kHz
Dimensions: 2.75 × 4.125 in
Industrial Temperature: -40°C to +85°C
RoHS Compliant
Manufactured in the US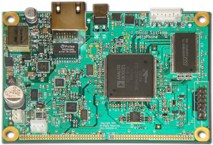 Software Features
TFTP Client
Telnet Server
Voice Engine with RTP (includes support for RoIP products)
Voice Engine Codecs: G.711 (µ-law, A-law), G.722, G.726 (16/24/33/40 kbps), G.729, DVI4 (narrow/HD/Ultra HD), iLBC, Speex (narrow/HD/Ultra HD), SILK, L16 PCM (narrow/HD/Ultra HD/CD)
Data Flash Management (Multi-Partition File System, Advanced Firmware Management, Bootloader, Secure Area)
DHCP Client
Extensible Command Line Interface
Web Server with Extensible Configuration Web App and Configuration and Control Web Services
VoIP Call Manager (includes support for incoming calls, outgoing calls, hold, conferencing, transfers, mic/speaker volume control and mute, etc.)
Configuration Subsystem (file based or can integrate with other platform standard)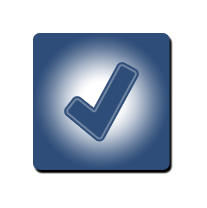 516-POE Intercom Development Kit
A quick-start dev kit to get you up and running
The InstaVoIP 516-POE Intercom DevKit demo is shipped in a metal enclosure that will need to be opened for installation of cables. All that is required to begin using the DevKit is an Ethernet cable. (A 5V power cable will need to be purchased separately if Power over Ethernet is not used.) Additional I/O wiring can be added for external devices like door lock outputs, door open sensors or remote door open inputs. The development kit is designed and manufactured in the US.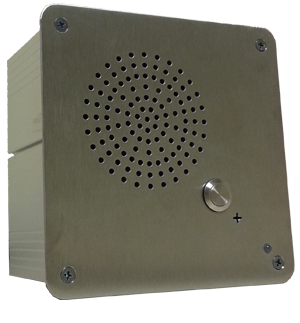 Development Kit Contents
InstaVoIP 516-POE Intercom Module demo door box. Includes bi-color LED, button, speaker and microphone
Ethernet patch cable
Mounting screws (drill through enclosure)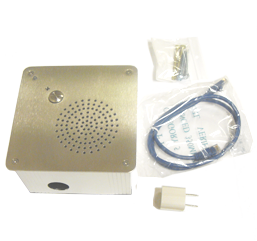 516-POE Intercom Module & Installation Accessories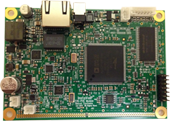 InstaVoIP 516-POE Module*
Our standalone POE intercom module.

*We require new customers to purchase a 516-POE Intercom DevKit before ordering individual 516-POE Intercom Modules. The DevKit will demonstrate a proper assembly to achieve the best possible sound quality.
New accessories for the 516-POE Intercom Module simplify the installation process either in the factory or the field!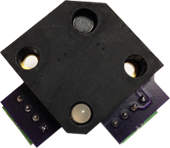 InstaVoIP 516-POE Microphone/LED Assembly
A high-quality microphone and LED assembly that allows easier installations for custom intercom applications. Includes a neoprene gasket to better isolate the speaker from the microphone for improved full-duplex performance. The assembly also includes a bi-color LED (Red, Green, Amber).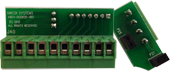 InstaVoIP 516-POE Terminal Block Adapter Set
These screw terminal blocks allow for easier site installation of the microphone, LEDs, buttons, and speaker reducing risk and time in the field.
InstaVoIP 516-POE Intercom Module Hardware Diagram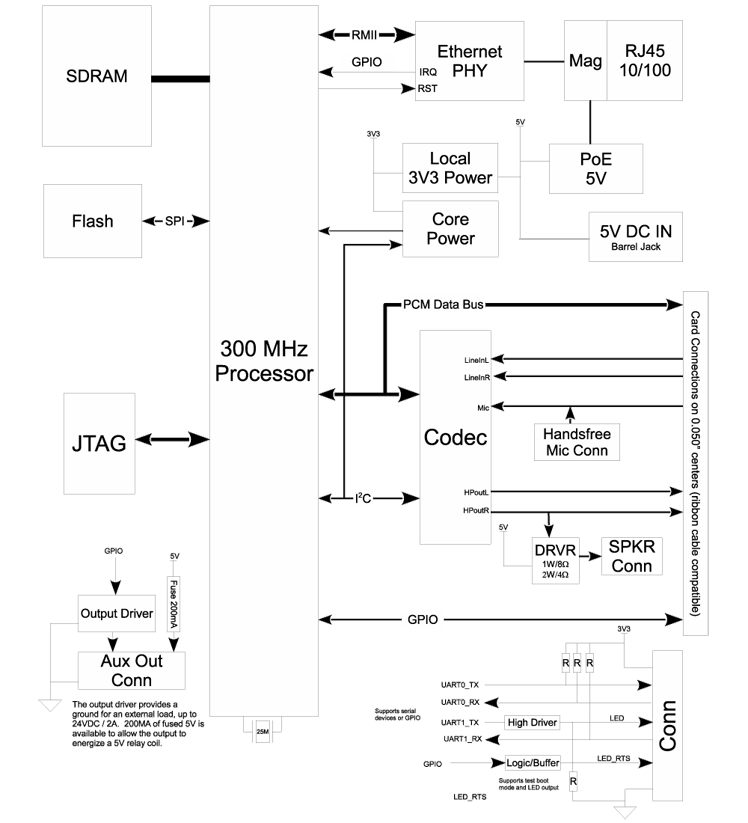 InstaVoIP Architecture Diagram
Phone: +1-678-208-2250 E-mail: sales@unicoi.com